Regular price
Sale price
$9.99 USD
Unit price
per
Sale
Sold out
TENSION EASE Roll-on to Relax the Mind, Body, and Spirit
Is chronic pain getting you down? The way the nervous system sends signals to the brain is marvelous! Yet pain signals can get scrambled. Your brain may even remember pain that isn't really there anymore. It needs to be reassured that everything is okay. Even the fear of chronic pain can create a cycle of muscle tension, which intensifies pain.
This ongoing tension can weaken your mental and physical stamina and delay healing. TENSION EASE blend combination, of both sedating and reviving essential oils, helps you relax your breathing, relax your muscles, calm your mind, and uplift your spirit with peace and composure.
Many prefer to get TENSION EASE blend as a roll-on because it's so easy to use. 
You don't want to use undiluted essential oils directly on your skin for safety reasons. However, with a roll-on, it's ready to go straight from the bottle, no need to mix or measure. You can keep it next to your bed, in your office desk drawer, in your car, purse, backpack, or even pocket!
How You Can Use TENSION EASE Roll-on To Get Some Relief
Unscrew the cap, tip the bottle, and roll the already diluted blend directly on your skin. Apply directly on your chest, torso, back of neck, shoulders, and bottom of feet. You can also apply a small amount in the palm of your hands; cup your hands over your nose and inhale the aroma. Or if you like the scent as a perfume, roll on pulse points, such as inner wrists, behind knees, and back of your ankles.
Our 10 ml roll-ons are 100 percent pure essential oils in a 10 percent dilution of fractionated coconut oil. No need to mix or measure. The cobalt blue glass bottles protect the product from deterioration and the roller-ball applicator allows for easy, convenient, and safe topical use.
Share
View full details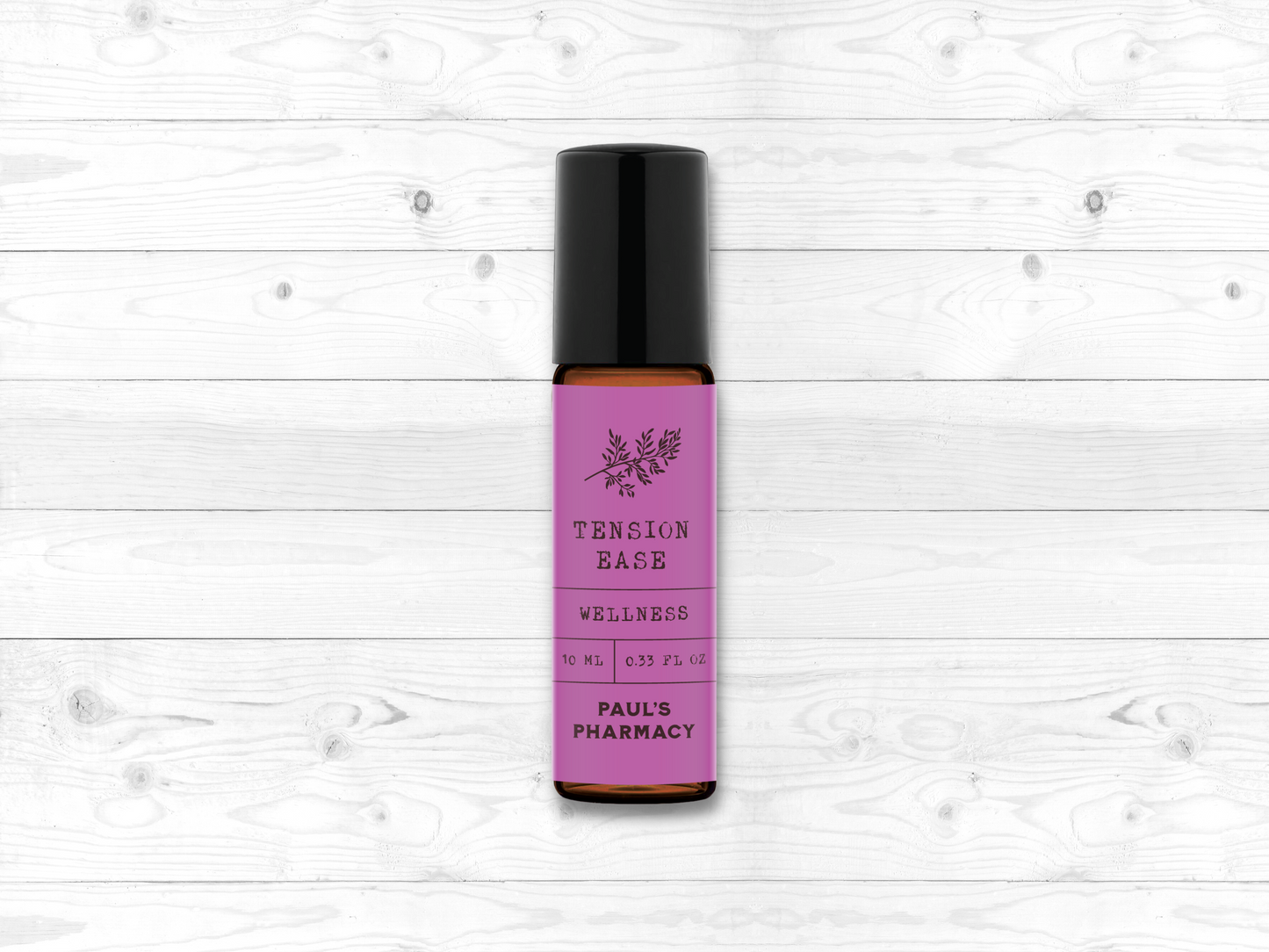 WHO WE ARE
We are committed to educating, enhancing, and encouraging you at every stage of your life by providing some of the most superior solutions in pharmacy and supplemental care. Our pharmacy is centered around empowering you with information and opportunities that give you the control in making smart choices for your health. We will give you our best so that you can feel your best.
Your Health is Our Passion

We are inspired to provide total care inside and out. We are proud to carry countless supplemental solutions that are proactive, preventative, and designed to replenish your body with essential nutrients, vitamins, and minerals.

Our Difference

At Paul's Pharmacy, each person matters. We dedicate ourselves to caring for the total well-being of every patient we serve. We are committed to providing superior solutions, cutting-edge technology, and one-on-one consultations to achieve optimum health results. With our prescriptions, compounding, and DNA testing, we offer unparalleled pharmacy care that ensures a better you at every stage of your life.

High Quality Standards

We take the guesswork out of finding the right nutritional solutions by providing science-backed and evidence-based supplements. We do the work to understand our products so all you can feel confident in your selections.