Regular price
Sale price
$9.99 USD
Unit price
per
Sale
Sold out
No one likes an upset stomach, but digestive problems can go beyond discomfort. Our gut is often referred to as our "second brain." When our digestive system is suffering, it can impact our physical, mental, and emotional well-being.
Chronic stress can lead to many forms of digestive dysfunction. That's one of the reasons why the most effective essential oils for the digestive system are often the ones you find the most calming and soothing. If you're looking for an overall blend to help support good digestion, GUT SUPPORT is a great choice to ease indigestion and help you feel more relaxed, which in turn, supports good digestion!


How Your Can Use GUT SUPPORT to Soothe that Sluggish, Achy Feeling
Bath, Foot: Mix 1-3 drops of essential oil blend in 1/2 teaspoon of carrier oil, such as fractionated coconut oil. Set aside. Fill a tub (deep enough to cover your feet and ankles) with warm water. Add the essential oil mixture, stir well, and immerse your feet for 10-15 minutes. Breathe in the aroma and massage your feet.
Compress: Fill a basin with water. (Warm water relaxes and increases circulation. Cool water invigorates and relieves inflammation.) Add 3-5 drops of this blend of essential oils and briskly stir. Lay in a washcloth, wring and apply to the area in need for approximately 1-5 minutes. Dip, wring and apply 3 more times.
Inhalation: Put 1-3 drops of the essential oil blend on a tissue and inhale the aroma through your nose. Pause and inhale again.
(Avoid touching your nose with the tissue.)
Massage: Mix 6-30 drops of Digestion blend in 1 ounce of carrier oil or fragrance-free, natural lotion. Gently massage the area of the esophagus and abdomen following the direction/flow of the colon.
Share
View full details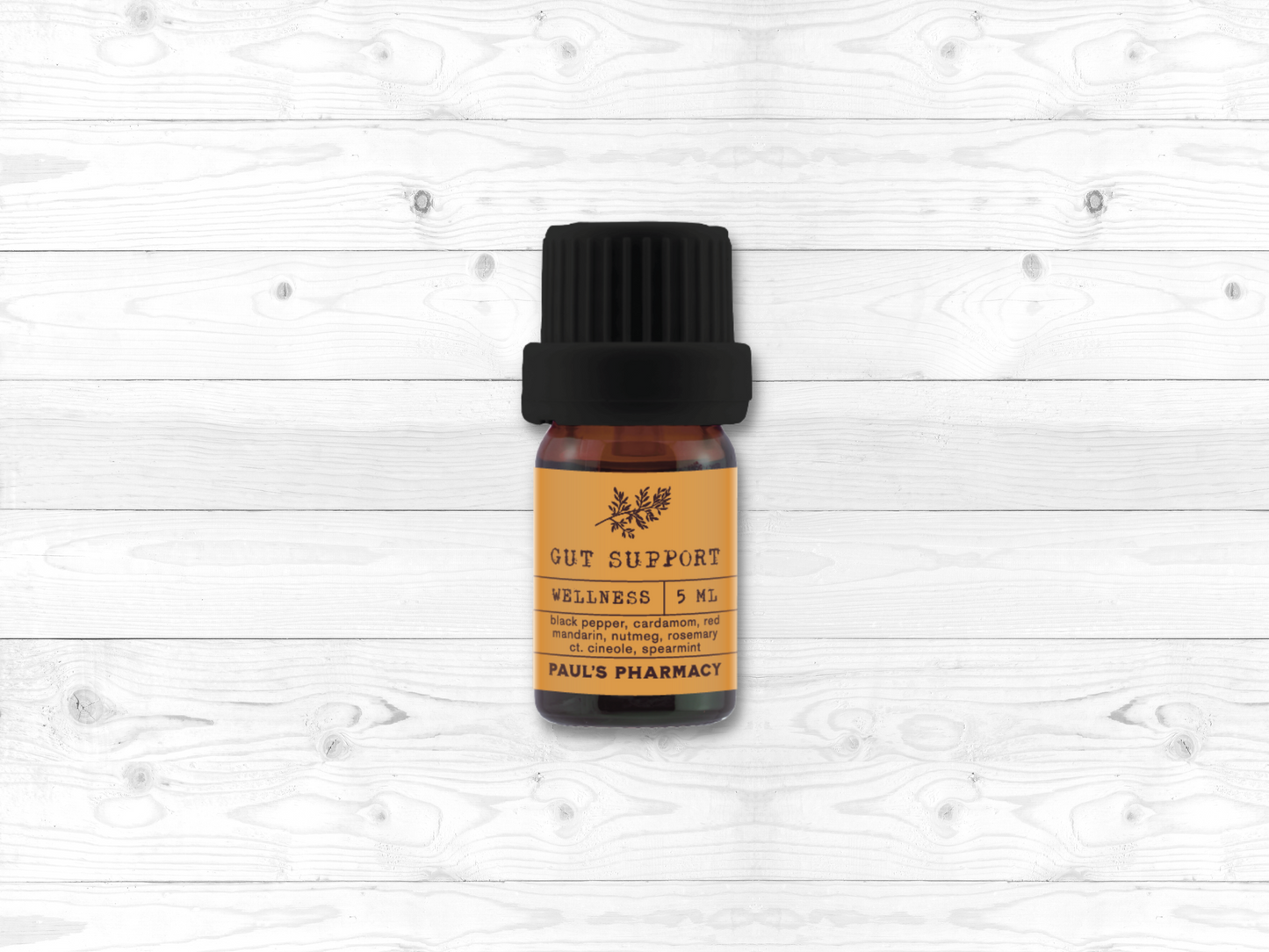 WHO WE ARE
We are committed to educating, enhancing, and encouraging you at every stage of your life by providing some of the most superior solutions in pharmacy and supplemental care. Our pharmacy is centered around empowering you with information and opportunities that give you the control in making smart choices for your health. We will give you our best so that you can feel your best.
Your Health is Our Passion

We are inspired to provide total care inside and out. We are proud to carry countless supplemental solutions that are proactive, preventative, and designed to replenish your body with essential nutrients, vitamins, and minerals.

Our Difference

At Paul's Pharmacy, each person matters. We dedicate ourselves to caring for the total well-being of every patient we serve. We are committed to providing superior solutions, cutting-edge technology, and one-on-one consultations to achieve optimum health results. With our prescriptions, compounding, and DNA testing, we offer unparalleled pharmacy care that ensures a better you at every stage of your life.

High Quality Standards

We take the guesswork out of finding the right nutritional solutions by providing science-backed and evidence-based supplements. We do the work to understand our products so all you can feel confident in your selections.