Regular price
Sale price
$6.99 USD
Unit price
per
Sale
Sold out
Latin name: Eugenia caryophyllata
Country of origin: Indonesia
Part of the plant: Dried buds
Obtained by: Steam distilled
Main biochemical components*: Eugenol, eugenyl acetate, caryophyllene
Properties: Analgesic, antiseptic, antispasmodic, anti-infectious, antifungal.
Why Use
Physical uses: Muscle aches, stiff joints, infections, colds, flu, sinusitis, bronchitis, nausea, poor digestion, poor circulation.
Skin care uses: Athlete's foot, bruises, warts, blemishes, minor skin infections.
Psychological uses: Mental fatigue, mild depression, low libido.
Subtle uses: Promotes courage. Strengthens the conscious mind.
Notes: Use Clove Bud in a 1-5% dilution. May be sensitizing.
Methods of Use
Chest Rub: Mix 5-10 drops of essential oil in 1 tablespoon of carrier oil or fragrance-free, natural lotion, apply to your upper chest and upper back.
Inhalation: Put 1-3 drops of essential oil on a tissue and inhale the aroma through your nose. Pause and inhale again.
(Avoid touching your nose with the tissue.)
Massage: (SPECIFIC AREA ONLY, do not use for full body massage) Mix 6-12 drops of essential oil in 1 ounce of carrier oil or fragrance-free, natural lotion.
Spot Application: Mix 1-4 drops of essential oil in 1 teaspoon of carrier oil or aloe vera and apply to the area in need.
Share
View full details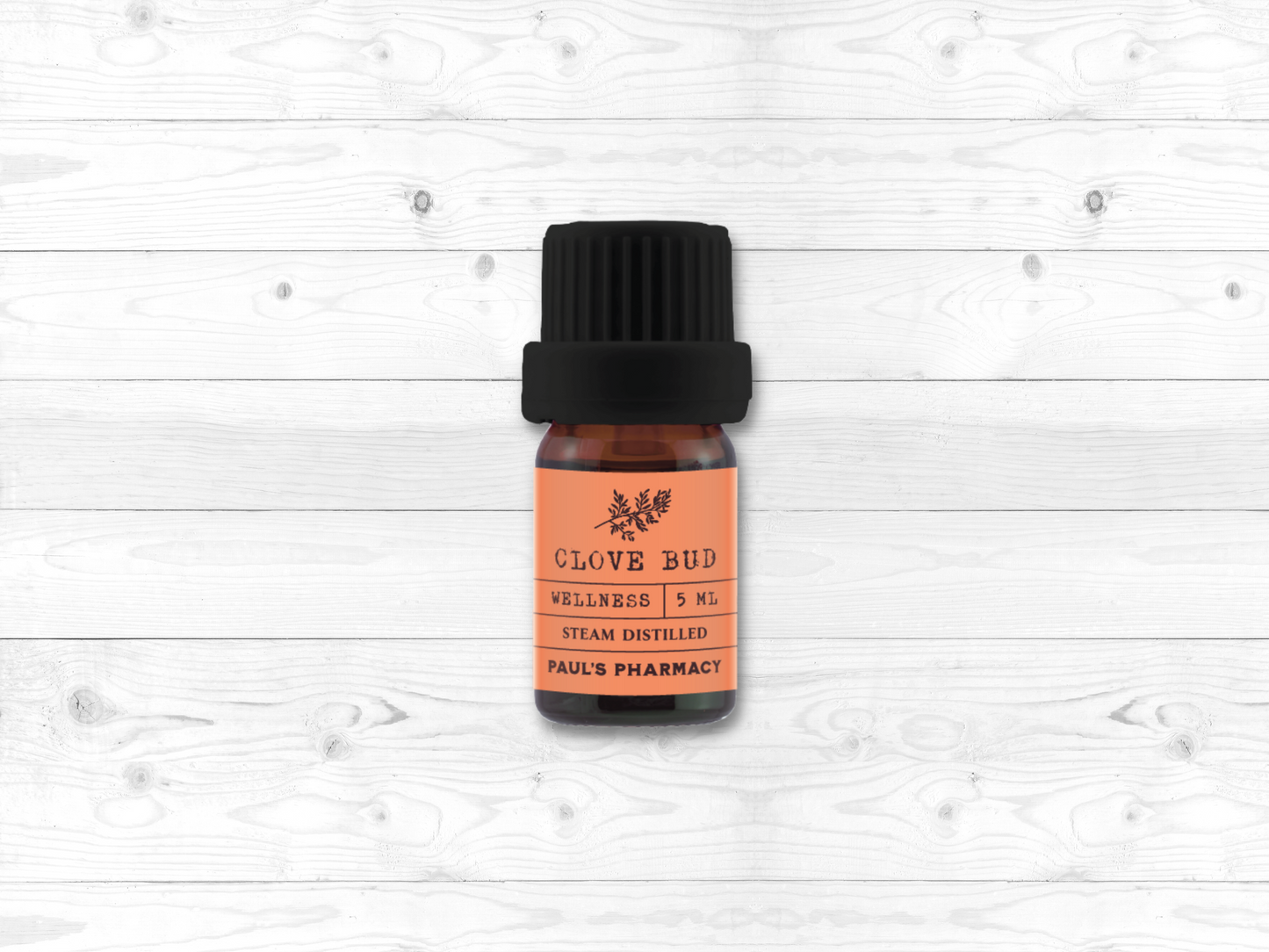 WHO WE ARE
We are committed to educating, enhancing, and encouraging you at every stage of your life by providing some of the most superior solutions in pharmacy and supplemental care. Our pharmacy is centered around empowering you with information and opportunities that give you the control in making smart choices for your health. We will give you our best so that you can feel your best.
Your Health is Our Passion

We are inspired to provide total care inside and out. We are proud to carry countless supplemental solutions that are proactive, preventative, and designed to replenish your body with essential nutrients, vitamins, and minerals.

Our Difference

At Paul's Pharmacy, each person matters. We dedicate ourselves to caring for the total well-being of every patient we serve. We are committed to providing superior solutions, cutting-edge technology, and one-on-one consultations to achieve optimum health results. With our prescriptions, compounding, and DNA testing, we offer unparalleled pharmacy care that ensures a better you at every stage of your life.

High Quality Standards

We take the guesswork out of finding the right nutritional solutions by providing science-backed and evidence-based supplements. We do the work to understand our products so all you can feel confident in your selections.